Tuesday, September 26's General Hospital spoilers and updates hint at frantic inquiries, worried nephews, and regretful mobster.
At Ferncliff, Gladys Corbin (Bonnie Burroughs) is asking a lot of questions, Jake Spencer (Hudson West) is concerned about his uncle Drew Cain (Cameron Mathison), and Sonny Corinthos (Maurice Benard) is regretting something.
General Hospital Spoilers: Harrison Chase's Questions
Harrison Chase (Josh Swickard) asks someone at the PCPD to explain the situation to him because he has some questions and he appears to be confused. He might spot Cody Bell (Josh Kelly), Sam McCall (Kelly Monaco), Dante Falconeri (Dominic Zamprogna), and Sasha Gilmore (Sofia Mattsson) with Cody Bell.
Chase will make an arrest, and if Sam's copy of Sasha's toxicology report from the day she stabbed Cody is sufficient for a warrant, it might be Damon Montague (Darin Toonder).
If so, Gladys' search for Sasha at Ferncliff will undoubtedly be frantic because she might be the next victim. Chase continues to have a lot of questions in the interim.
GH Spoilers: Frantic Questions
Returning to Gladys, she is at Ferncliff and is frantically enquiring as to the whereabouts of her daughter-in-law. Since it has been several days, one would think Montague or one of the staff nurses would have informed her that Cody had taken Sasha out of Ferncliff.
Or maybe she's just trying to cover herself by claiming she has no knowledge of it. However, given that Sasha's accounts are frozen, she has been extremely busy trying to persuade people to feel bad for her and donate to her.
General Hospital Spoilers: Dante Falconeri Warns Cody Bell
Back at the PCPD, Dante cautions Cody that unless they can show Gladys and Montague are collaborating, their plan will fail.
Cody concludes Dante's sentence and informs him that he will be the one serving time in prison rather than Gladys and Montague. While Gladys has, well, pretty much nothing, Montague probably has a ton of powerful attorneys on his side.
They will have to hope that Dante's subpoenas, including the one for Gladys' bank accounts, are honored. They also require additional evidence that Montague drugged Sasha.
GH Spoilers: Worried Nephews
Jake and his mother, Elizabeth Baldwin (Rebecca Herbst), are in Hamilton Finn's (Michael Easton) office at the hospital. Drew Cain (Cameron Mathison), who is currently undergoing surgery for broken ribs with a shard next to his aorta, is the subject of their collective worry.
Another concern is that Drew was unconscious when he was brought in, but that actually worked to his advantage because he couldn't move. Jake's mother responds that they don't necessarily have to sit around doing nothing when he asks if they must.
General Hospital Spoilers: Important Questions
At their new home, Charlotte Cassadine (Scarlett Fernandez) is with Valentin Cassadine (James Patrick Stuart), who is there because he has some crucial questions.
Although Charlotte was looking forward to moving into the new home and spending time with Papa once more, he is curious about her thoughts on Anna Devane's (Finola Hughes) impending move. At first, Nina Reeves (Cynthia Watros) was with them, but she later received a call asking her to visit GH.
Nina had the opportunity to warn Valentin that Charlotte wouldn't appreciate Anna residing with them because, in her eyes, Anna is the core issue. Charlotte reacted negatively when Kelly brought up Anna's name during their conversation there.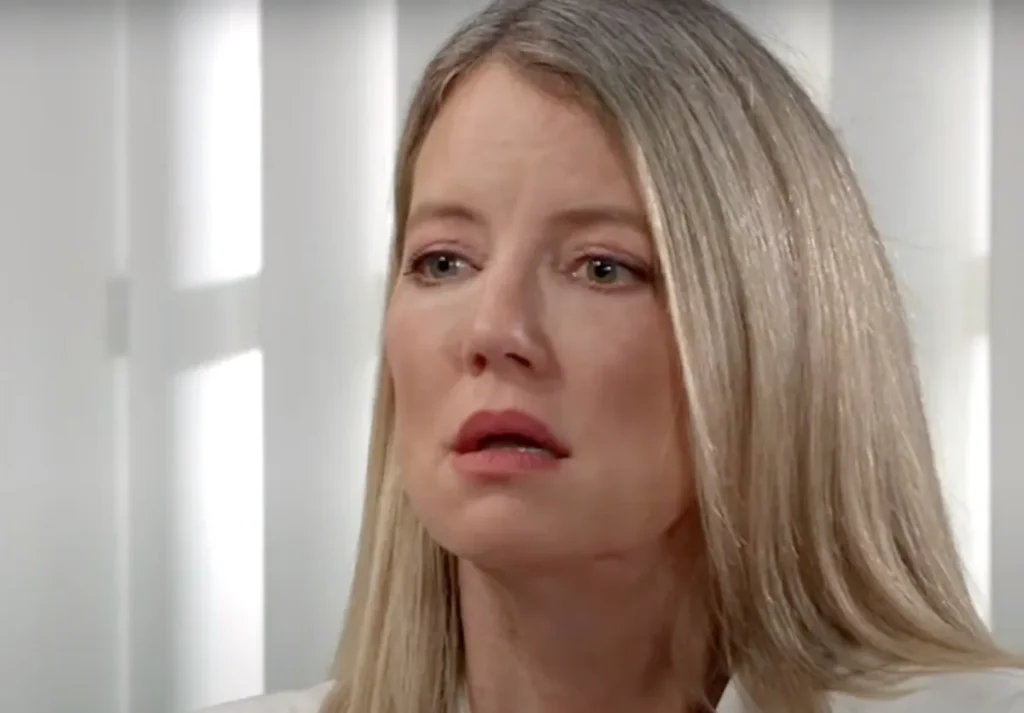 GH Spoilers: Regretful Mobsters
Sonny discovered Anna there with a candle lit for Drew when he returned to GH, and the two of them continued their conversation there. She enquired about Sonny's feelings of regret as they discussed his decision to choose the life of a mobster. Sonny had started to wonder, and now Anna is digging deeper. Sonny isn't quite ready to turn the page, she realizes.
General Hospital Spoilers: Carly Spencer Confronts Ava Jerome
Carly snaps at Ava Jerome (Maura West), who is with Nina, back at the hospital, where everyone is worried about Drew.
"A caveat-I know exactly what you did," Carly yells as she accuses Ava. Ava had been warned by Carly not to trust Austin Gatlin-Holt (Roger Howarth) a few days prior, and Drew had been assaulted while attempting to find out who Austin visited in Pentonville.
In the GH waiting area, it appears to be extremely ugly. Probably someone will rush in to break it up! Carly could have easily reached that conclusion because she had also gotten angry with Sonny.
Make sure to stay current with everything that GH is doing right now. For spoilers, news, and updates about General Hospital, check back frequently.