As he recovers from his beating in prison, Drew Cain (Cameron Mathison) is expected to struggle, according to General Hospital (GH) spoilers.
Sadly, Carly Spencer (Laura Wright) is losing her mind with worry and lashing out in anger. What will happen when she discovers that Nina Reeves (Cynthia Watros) was the one who informed the authorities about their insider trading?
GH Spoilers: Nina Reeves Continues To Dig Herself Deeper
According to GH rumors, Nina's SEC secret will soon be made public. The impact of this should be enormous. The consequences of Nina informing the authorities about Drew and Carly's insider trading have been profound, and more negative consequences are on the way.
As Drew frantically tried to find Liesl Obrecht (Kathleen Gati), who was being sought after by the federal government, she put Willow Corinthos's (Katelyn MacMullen) bone marrow transplant at risk.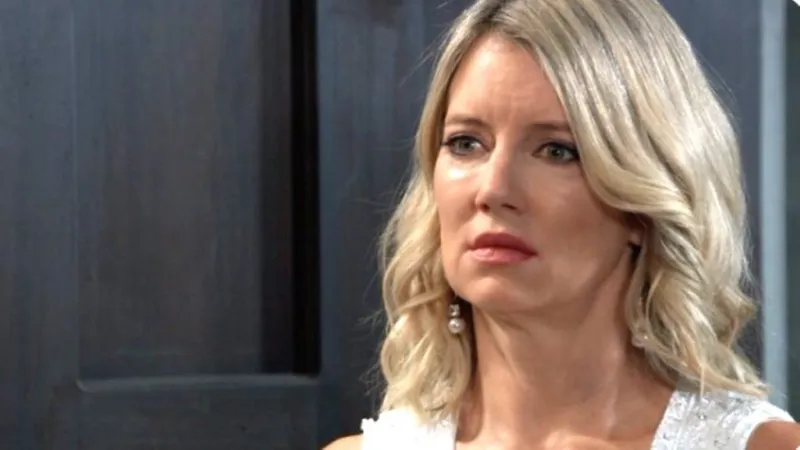 After all that was said and done, he was given a three-year prison sentence, locking up the Navy Seal and local hero and, more importantly, separating him from his daughter Scout Cain (Cosette Abinante), who has already missed out on enough time from him.
Additionally, Nina played a supporting role in Ned Quartermaine's (Wally Kurth) Metro Pool incident, which has led him to believe he is Eddie Maine. Nina almost made Drew take the blame, but she was too afraid to speak up.
Not to mention the fact that Nina made it appear as though Ned did it, which strained the relationship between Mr. Q and Drew as well as that between Carly and Olivia Quartermaine (Lisa LoCicero).
GH Spoilers: Carly's Revenge
Concerned to the hilt about her boyfriend, Carly. On so many levels, she feels personally accountable for Drew's current situation.
Ms. Spencer, who is in many ways a "hero" in the land of Port Charles, also enjoys deflecting, and let's face it, she can be a bully to people she doesn't get along with.
She and Drew ultimately committed a crime, and it was her idea. Carly will have a reason to blame Nina when the SEC secret is revealed, and she won't soon be able to let go of what happened. especially considering that Drew is fighting for his life while being beaten up in jail.
Heck hath no fury like Carly's scorn, and Ms. Spencer won't let go of the argument that Drew almost died. In fact, she'll keep bringing up Sonny Corinthos (Maurice Benard), who she will continue to remind everyone of.
Will Nina have to pay Carly? Post a comment below! Watch your favorite ABC soap opera every day to see all the drama play out, and check this page frequently for the most recent General Hospital spoilers, updates, and news.