Gladys Corbin (Bonnie Burroughs) will be put on trial for all the terrible things she has recently done on General Hospital the following week. She could already feel Sasha Gilmore's (Sofia Mattsson) anger. But she did more than just betray Sasha—she also committed a number of crimes.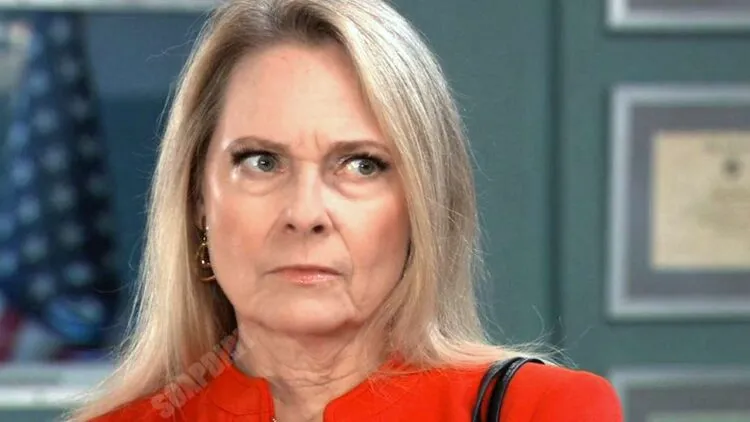 She will soon have a lot to explain, hopefully to the police. Unfortunately, Sasha finds herself in danger once more the following week, even though Gladys might be prosecuted.
Dr. Damon Montague, a psycho, is undoubtedly involved (Darin Toonder). Sonny Corinthos (Maurice Benard) threatens someone later on General Hospital, and there's a good chance that person is Gladys. Or maybe Montague is to blame.
The kingpin might drive the shrink out of town or, even better, kill him for good. A major choice must be made by Willow Tait (Katelyn MacMullen) and her husband, Michael Corinthos (Chad Duell), in another scene.
Then, Carly Corinthos Spencer (Laura Wright) feels uneasy. Additionally, Kristina Corinthos (Kate Mansi) anticipates something. Additionally, GH is skipped on October 3 and 4 due to baseball.
GH Early Edition Spoilers: Tracy Blabs Gregory's Secret
On General Hospital the following week, Tracy Quartermaine (Jane Elliot) unintentionally spills a secret. Recent spoilers confirm that Gregory Chase (Gregory Harrison)'s son Harrison Chase (Josh Swickard) learns of Gregory's ALS diagnosis from a source other than Gregory.
Therefore, it is likely that Tracy tells Chase before Gregory has a chance. Any strides they've made in their new friendship on General Hospital might be undone by this.
Jon Lindstrom's character Kevin Collins creates a novel theory in the interim. And Laura Spencer Collins, played by Genie Francis, is unwavering. In another scene, Trina Robinson (Tabyana Ali) and Spencer Cassadine (Nicholas Chavez) become more intimate.
General Hospital Weekly Spoilers: Valentin Stuns Anna
More GH reveals inform us Martin Gray (Michael E. Knight) meets with Valentin Cassadine (James Patrick Stuart). Then he surprises Finola Hughes' Anna Devane.
On General Hospital, he might ask her to relocate to the new home he just bought for him and Charlotte Cassadine (Scarlett Fernandez).
Without a doubt, he wants them together so he can watch over Charlotte and prevent her from pursuing Anna once more. Anna becomes suspicious later. She then requests a favor.
Valentin receives news from Nina Reeves (Cynthia Watros). Dramatic and intense describe GH. Watch the ABC sudser every day to see Gladys Corbin finally make amends for what she did to Sasha.