General Hospital spoilers indicate Nina Reeves will soon be revealed. And in the ABC sudser, she might lose everyone in her life.
Spoilers for General Hospital: Nina Reeves in Disarray
On General Hospital, Cynthia Watros' character, Nina Reeves, is currently distraught over her fiancé, Sonny Corinthos (Maurice Benard). Sonny was detained by the FBI and taken away while eating at Metro Court restaurant.
His lawyer, Diane Miller (Carolyn Hennessy), is unable to secure bail for him. He will therefore be in a holding cell for the following 72 hours. Nina is panicking in the meantime. And when Alexis Davis (Nancy Lee Grahn) forces her to face a terrible reality check, things only get worse.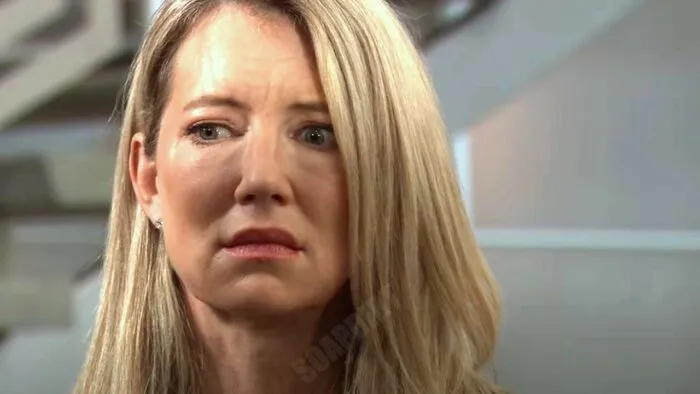 She has a massive target on her back due to the fact that she is Sonny's fiancée. Furthermore, according to confirmed General Hospital teasers, Pikeman Security will keep threatening Sonny. And the fallout from his arrest affects every relationship he has. He and Nina will soon make a significant decision regarding their future.
Sonny and Nina Take a Significant Action on GH
In the upcoming episode of General Hospital, Nina and Sonny consider their relationship in light of his legal issues and make a choice. There is a significant likelihood that they will get married right away once he is able to post bail.
In this manner, if he is sentenced to prison, they will already be married. It might, however, go the other way. Given that getting married might make Nina a target, Sonny might decide they shouldn't do it after all.The mob boss won't be able to defend her if he is imprisoned in Pentonville.
Therefore, he can choose to stop things on General Hospital so that she can stay safe. But as soon as her deep, dark secret is revealed, he won't know what hit him.And it will alter every aspect of their relationship.
Finally, Nina was caught on General Hospital
The huge bombshell that Nina is the informant who told the SEC about Carly Corinthos Spencer (Laura Wright) and Drew Cain (Cameron Mathison) is drawing closer. This Fall, everything will happen, and everyone will soon be aware of her secret.
It will undoubtedly undo all the progress she had made with Willow Tait (Katelyn MacMullen). On General Hospital, Willow is probably going to shun Nina permanently this time. She might also lose her friendship with Sonny.
The kingpin won't likely ever forgive her because he doesn't appreciate snitches. She nearly sent the mother of his children to prison, after all. Therefore, even if they hasten their nuptials, their union is probably doomed to failure.
Her entire world will soon come tumbling down, and she will once more be shunned by the community. GH will shortly blow up. Watch the ABC soap drama every day to find out if Nina Reeves loses everything when the horrible truth is revealed.
Get daily spoilers and news about General Hospital from Soap Dirt.